Other Top Stories
NOTICE OF NATIONAL GENERAL MEETING
Members are urged to attend this meeting so that you can deliberate and participate in the functioning of the union. We look forward to your continued support.
New Year's Message from the General Secretary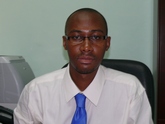 After the last meeting with members, the SLTU was mandated to return with the TUF at the negotiating table. The SLTU was also mandated to begin negotiations no lower than 16%. I am pleased to report to members that the SLTU returned to the negotiating table where a case for the position of Public Sector Unions and Staff Associations were presented to the Government Negotiating Team (GNT). To show that we were negotiating in good faith, Public Sector Unions and Staff Associations moved from their previous position to 15%. The GNT remained at its steadfast position, only providing some alternative options without giving us the opportunity to negotiate on them.
TEACHERS' WEEK 2012
The St. Lucia Teachers' Union is celebrating Teachers' Week 2012 under the theme "Take a Stand for Teachers".